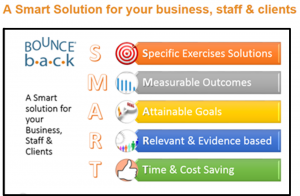 Thanks to those that attended the Bounce back Digital info session on Saturday. We hope that the afternoon was full of valuable knowledge about the exciting new developments for the Bounce back program, particularly our move to a digital platform. Below are links to both Trish and Phil's presentations from the first part of the afternoon.
Additionally, below is a copy of a presentation Trish gave recently to the SMA on the Bounce back digital platform, which is similar to her presentation on Saturday. Feel free to review yourself or share with your staff as a way to let them know the key points of what we discussed on Saturday.
SMA presentation on Bounce back Digital
Sydney Cycling course conducted by Trish Wisbey-Roth (FACP) (AIS/UC) (FSMA): Providing valuable knowledge in the complex area of body and machine. Includes: bike setup, measurements & cycle-specific musculoskeletal screening.
Enrolments are now open:
The Back Pain Personal Health Plan – Bounce Back Edition is the only back care book you will ever need showing you how to take control of your back pain. A comprehensive self-help manual which will dispel the myths and confusion about back pain and help you to finally understand the real causes to everyday neck and back pain.
A valuable new publication  based on current research and available clinical evidence to optimise recovery and independence in all those who have suffered the effects of back and neck pain/
Learn easy to follow safe and effective neck and back exercises that increase flexibility and strength of the spine and teach efficient posture.
You'll also learn:
How to break the fear and anxiety cycle that keeps you in a vulnerable and painful state
A new understanding of how our spine and body works
How to increase your confidence levels through exercise
How to identify muscular tightness and imbalances
Ways to improve your posture
Ways to use stretching to ease the build-up of tense muscles
How to gradually strengthen your back muscles as you continue to gain confisence and regain your full range of activity
The exercises in The Back Pain Personal Health Plan contain carefully selected examples from the Bounce Back Active Rehabilitation System and are based on the experiences of over 5000 participants.
Click here to buy or contact us with enquiries at admin@bbclasses.com.au.