---
Want to really understand  Hip rehab from the inside out? Here is a free resource with the answers.
Why do some patients flare with exercises that should work to improve hip and dynamic function? 
We have all had those patients  that keep you awake at night thinking: why does their hip or pelvic pain keep flaring with Pilates and hip strengthening exercises that you know work with other clients? I know the term "psychological issues" is the  easy answer,  but make sure  you don't throw the baby out with the bath water, by ignoring  local hip structures that may create a cascade of pain responses, cortical motor control inhibition and emotion.
I  spend many of my clinical hours seeing  complex  hip pain clients referred by Orthopaedic/Sports Specialists,  Physio colleagues and insurance companies asking for a multifaceted rehab strategy. Obviously psychological strategies  must always be considered and addressed  but differential diagnosis  of often  a combination of presenting
musculo-skeletal issues is also key! Once the presenting issues are identified and demystified,  a treatment and exercise program can be  designed with an evidence based  rehab strategy.
All the knowledge I have gathered and developed regarding hip-related issues as part of my Sports Physio Specialisation qualifications, I have put together in a comprehensive  but  easy-to-follow format in the Hip Rehab Exercise Grid which I offer to you totally free Click here to access. This is a must-have resource that you can start using today, with my compliments. My passion has always been to impart knowledge for the maximum good and if this knowledge helps you and your clients, then the years that have gone into understanding the hips have been worthwhile.
Want to know more and see the Hip Rehab Exercise Grid theory and exercises demonstrated and explained? Then choose from our 8 part "Optimising the Hip" online series Click to view our special offer including 2 for the price of 1  or join me for a Hip knowledge and food feast on my course Hip Differential Diagnosis and Prescriptive Exercises on March 19/20th, Holiday Inn Mascot Sydney. Believe me, the food and venue is second to none.
As a "great to see you face to face gift" I have decided to give all participants who attend the face to face course, the entire 8 online series "Optimising the Hip" completely free, so the understanding and learning can keep happening months after our time together on the course.
So whatever level of knowledge  you are looking for to  fill in your own clinical gaps in hip rehab, I  hope  reading this post and the free resources have made the time you have invested worthwhile. Sincerely Trish Wisbey-Roth, Specialist Sports Physiotherapist ( FACP)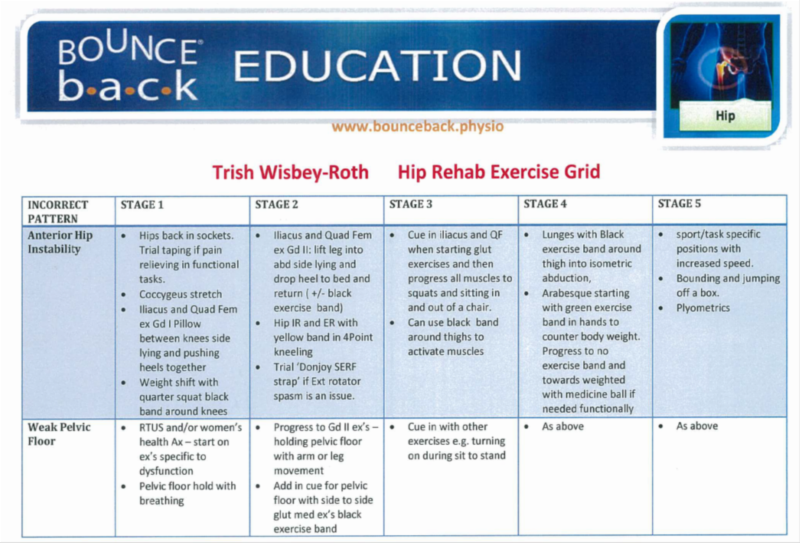 These issues are identified and individual exercises are demonstrated in the new 8-part online Optimising the Hip video series.  This series consists of 8 Modules of approx 30 – 40 minutes each, ideally paced as a practical tutorial for  physiotherapists.
Click to view our special offers including 2 for the price of 1.
For practical applications of the exercises included in this guide, you may be interested in attending my upcoming 2-day Hip course to be held in at Sydney Airport (Holiday Inn) from 19-20 March 2016. Hurry, strictly limited to 25 participants.

If the hip excites or confuses you….

join me at my upcoming 2-day Hip Course to be held at APA Sydney Rooms 5-6 August 2017 ($828) – or book via the APA portal if you are a APA member
---